Every Kitchen gardener dreams of growing his or her own tomato plant. Maybe you have grown some. It is a fairly easy vegetable to grow. You just need a favorable spot in your backyard garden full of sunlight. Although this is not possible for every one of us. The current scenario of urbanization and rapidly developing cities has posed a threat to open gardens.
In Urban areas, we have replaced open gardens with container gardens. Somehow this problem is solved. But the lack of adequate sunlight is quite difficult.
There may be a big tree, a neighbor wall, or any distant building that casts a shadow over your lovely garden. basically, you can't do anything about it. You have to either change your gardening habits or chose plants compatible with shades.
This lack of adequate sunlight is a bigger problem for Tomato gardeners. They always ask questions about- Will Tomato grow in shade? What type of tomato to choose for partial shade, and all sorts of questions like this. Here in this post I  will try to answer and solve all those problems. I hope this will help you with tomato gardening.
Check out my previous post: Is Squash a Gourd? Kitchen Garden facts
Sunlight Requirement for Tomato Plant
A healthy Tomato Plant requires 6-8 hours of direct sunlight with a temperature above 55 degrees Fahrenheit. The frost should be over and the air at night should feel cozy and warm.
Tomato is a winter vegetable in many tropical countries. They usually don't experience any heavy frost during winter. So it is an ideal time for starting a tomato garden.
In USDA zone 6 and above, You can grow a tomato plant just 10-12 days after the last frost. Spring to early summer is ideal to grow tomatoes. The best option is always to start the seedlings indoors in the fall. Move the tomato plants outside only when the night temperature increases 55-60 degrees Fahrenheit. Buy Tomato seeds online on Amazon.
Have you ever thought- will tomatoes grow in shade? keep reading for details.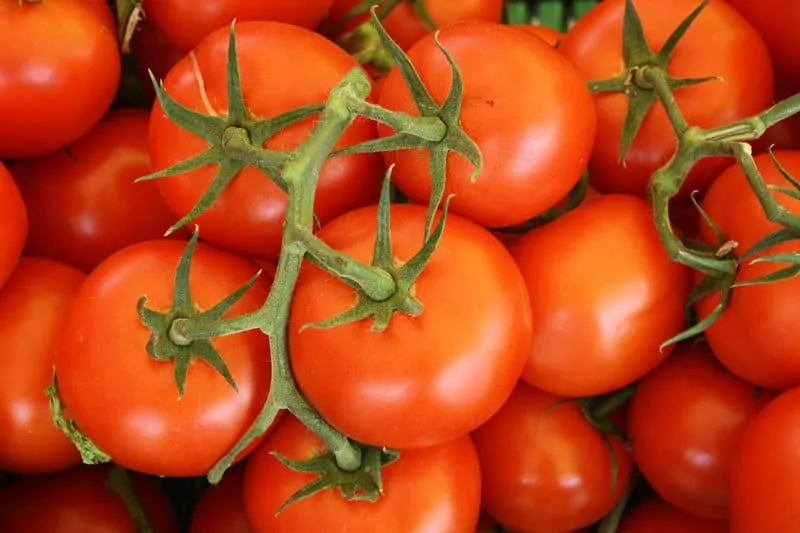 Do you Know- How deep to plant Tomatoes? A quick guide
Will Tomatoes Grow in Shade?
Let's jump on to the topic of discussion. Tomato is a fruiting plant. It is a fast-growing plant and really a heavy feeder. All these requirements relate to the rate of growth. The growth rate is directly governed by the amount of respiration and photosynthesis. Now, we all know Photosynthesis is directly dependent on the amount of sunlight received by the plants.
So The truth is that a Tomato plant needs 6-8 hours of sunlight for healthy growth and abundant fruiting. Now, you can ask- does it means you cannot grow a tomato plant in shade? Is it so?
The Answer is – No definitely not. A tomato plant can grow in partial shade. Even you can grow a tomato plant in full shade with artificial grow light.
If you manage to provide full spectra light with proper temperature then there should not be any problem.
Technically it is the transparency of shade that will decide whether your plant will survive or not.  Light or partial shade where your plant can get at least 4-5 hours of sunlight should be enough.
Powerful grow lights are the only option for full shade. Basically, Complete shade is not good for fruit plants. Grow lights are way too costly than natural sunlight. So try to spot a location where your tomato plant can get at least 4-5 hours of sunlight. It is required for strong root growth and bud formation.
Impact of Partial shade on a tomato Plant
Tomato plants are easy to grow vegetables. Yes, You can grow these tasty fruits in partial shade. Even in shades, these plants need abundant natural sunlight for fruit development. A greenhouse is the best shade option for any tomato plant.
If you decide to grow a tomato in shade then you are likely to face the situation. Check out and prepare for these beforehand.
Tomato plants in partial shade are more prone to disease and pest attacks. The slow rate of evaporation and excess moisture over the leaves is responsible for this situation. You must keep the watering low. Also, let the plant dry before the next spill.
Tomato plants in the partial shade can develop thin leggy branches. You can handle this situation by repetitive fertilization of the soil. Don't forget to add extra compost to the soil. It will keep slowly feeding the tomato plant. The use of chemical fertilizer is necessary for the indoor farming of tomatoes.
A tomato plant can develop lots of suckers in shade. These suckers or low branches can deteriorate plant and fruit quality. So keep running the extra branches every week. You should remember the fact that the lesser the branch higher and better the yield. Always try to keep only a few healthy branches in every tomato plant to develop fruit.
Every tomato variety will not yield the same in the shades. So the best option is to do some research before selecting a tomato plant for indoor or shade gardening. Both small cherry tomatoes and giant beefsteak have some varieties to adapt in partial shade. Keep in mind shade is not the ideal condition for a tomato plant. So don't expect a similar yield as an open vegetable garden.
Tomato Varieties to Grow in Partial Shade
Always remember Tomato plants need some sort of natural sunlight. You can't avoid it completely. Next, The list given here is internet sourced. I have not tried every one of these tomato varieties, especially in shade. I can only assure you with some cherry tomato varieties and 2 or three of these full-sized tomato beefsteak varieties.
I'll definitely share my experience once I try on some of the others from this list. Meanwhile, check out my favorite Tomato seeds on Amazon.
Small Tomato Varieties for Partial Shade
A small variety of tomatoes like cherry tomatoes is more adaptable with the shades. In fact, smaller tomato varieties are more profitable to grow in shade than usual big tomatoes. These plants are easier to manage.
Scarlet red cherry
A Grappoli d'Inverno
Black Cherry
Blondkopfchen
Evan's Purple Pear
Golden Sweet
Ildi
Ivory Egg
Isis Candy Cherry
Jaune Flamme
Juliet Hybrid
Koralik
Mountain Magic
Principe Borghese
Sun Gold
Sungold Select II
Sweet Chelsea
Thai Pink Egg
Topaz
Vernissage Yellow
Yellow Pear
Ordinary Full-sized or large size tomato varieties for Partial Shade
It is better to choose a giant tomato variety with shorter maturity dates. Fast growth and more yield will definitely be profitable if done correctly.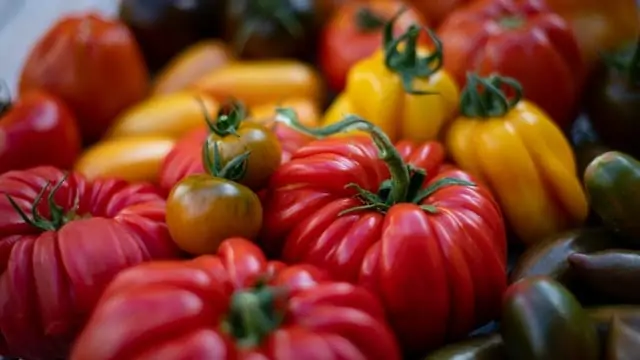 Plano beefsteak
Amana Orange
Arkansas Traveler
Beauty
Belize Pink Heart
Black Krim
Bonny Best
Carmello
Cherokee Purple
Early Wonder
Floradade
Gold Medal
Golden Sunray
Green Zebra
Hillbilly
Mama Leone
Marglobe
Nature's Riddle
Paul Robeson
Redorta
Red Zebra
Roma
San Marzano Redorta
Siberia
Striped Roman
Stupice
Tigerella
Violet Jasper
White Queen
Pick a Tomato Plant for shade with a specific color
Do you like colorful tomatoes, If yes? The choose some of these you're your shade garden. You can easily manage these tomato plants in partial shade. Some of these tomatoes are heirloom varieties. You can find many more like this in your local plant store.
Orange Tomato
Amana Orange (1 lb.)
Golden Sunray (8-10 oz.)
Jaune Flammé (8-10 oz.)
Sungold Select II (cherry)
Pink Tomato
Arkansas Traveler (8-10 oz.)
Belize Pink Heart (10 oz.)
Thai Pink Egg (grape)
Red Tomato
A Grappoli d'Inverno (grape)
Bonny Best (8-10 oz.)
Floradade (5-7 oz.)
Marglobe (8-10 oz.)
Principe Borghese (grape)
Roma (8 oz.)
Purple/Black Tomato
 Black Cherry (cherry)
 Black Krim (10 oz.)
 Cherokee Purple (12-14 oz.)
 Evan's Purple Pear (2 oz.)
 Paul Robeson (7-10 oz.)
Striped/Bicolor Tomato
Gold Medal (1-2 lb.)
Green Zebra (3 oz.)
Hillbilly (1 lb.)
Isis Candy Cherry (cherry)
Nature's Riddle (1-2 lb.)
Red Zebra (3 oz.)
Striped Roman (6-8 oz.)
Tigerella (4-6 oz.)
Vernissage Yellow (cherry)
Violet Jasper (1-3 oz.)
White Tomato
White Queen (10 oz.)
Ivory Egg (2 oz.)
Yellow Tomato
Yellow Pear (2 oz.)
Topaz (1-3 oz.)
Also read: Are Rainbow Tomatoes real or fake? Something to know
Share your experience on tomato plants in shade with my reader. I  will wait for your response. Do share your thoughts and ideas in the comment box.
Keep Reading keep gardening!
reference: