Vinca is a beautiful perennial flowering plant. Early spring is the best time to grow vinca Cuttings. You can choose from 8 different color varieties of vinca. White and purple are the primary colors for Vinca along with Red and some hybrid color combinations. Vinca flowers start blooming in spring and last till late summer. It is one of the best flowering plants to grow in the month of May.
The scientific name of Vinca is Catharanthus roseus. It has many common names. Some popular common names of Vinca are- Periwinkle, Sadabahar, Nayantara, and many more.
Vinca flowers are often called Periwinkle but both of them are different flowers. They belong to two different families. We will discuss the difference in some other post.
Can you grow vinca from cuttings?- Yes, Vinca plants can be easily grown from cuttings. You can grow Vinca cuttings in plain water, clean sand, or any good quality soil mix. It only requires some healthy cuttings from healthy parent vinca plant and propper care. In Ideal conditions, these cutting are ready to transplant in just 3 weeks.
Check out my previous post: How to grow Hibiscus by Air Layering? Easy Propagation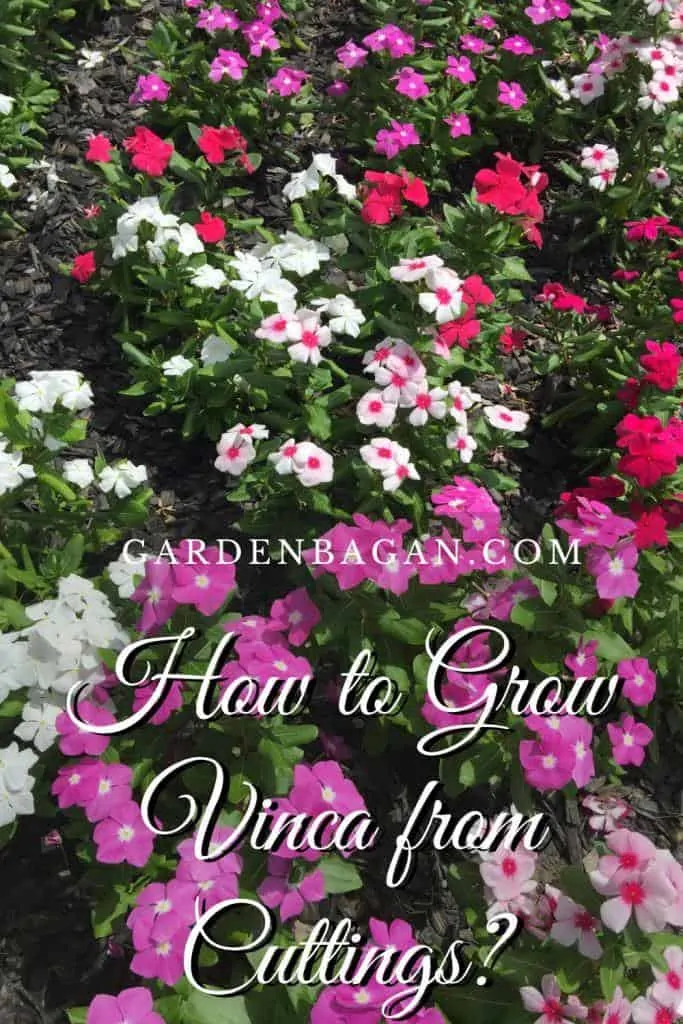 How To Grow vinca from Cuttings?
Take 4-6inch cuttings from heathy vinca plants in early spring. Dip the cutting in rooting hormone. At least 1 inch from the lower portion of the stem should be covered with rooting hormone. Put these cutting in wet sad or soil mix for 18-25 days. New vinca or periwinkle cuttings will be ready to transplant in just 20-25 days. You can transplant them directly to the ground or in small pots.
Methods to grow vinca from cutting
There are mainly three different methods to grow vinca plants successfully from cuttings. These are-
Using Plain Water
In Clean River Sand
In Soil Mix
We will discuss all these methods separately. You can follow any of these methods according to your comfort and availability of resources. Keep reading for detailed steps.
What are the Requirements for growing Vinca Cuttings?
Healthy Vinca Cuttings. Each cutting should be at least 4-6inch long. It should be free from any disease or pest.
Sharp Knife or Pruner. Check the latest price on Amazon.
Clean Pot or Containers. The pot should be at least 4-5inch deep. You can use any pots but I suggest using clay pots. It will provide some extra care to the cuttings.
Pain Drinking water. Water is required in all three methods. You can use bottled drinking water for this purpose. For the First method add 10 ml Hydrogen peroxide in 1 l water. This is optional but really effective.
River sand or construction sand. You can get this from any hardware store or check out the price on Amazon.
Soil mix is required in the third method. You can use garden soil but I would suggest using a growing media best for seedlings. Check out the latest price on Amazon.
How to take cuttings from Vinca Plant?
Sterilize your knife or runner with rubbing alcohol. You can also use hydrogen peroxide for this purpose.
Only select the healthy branches from a mother vinca plant. The branch should be clean and free from any disease.
Make a sharp cut just below any leaf node. The cuttings should be at least 4-inches long. Shorter cuttings can rot easily and cuttings longer than 6 inches can die without proper nutrition. So always keep cutting between 4-6 inches.
Give the cuttings a healthy bath in an antifungal solution. This is my secret tip. Just make a solution of 5gm contact fungicide with 1l of water and dip each cutting completely for 2-3 minutes.
Remove most of the lover leaves for cuttings. Just leave 3 or 4 top leaves on each cutting. Remember more leaves mean more evaporation. You have to minimize the rate of evaporation.
These are 5 essential steps to take a healthy cutting from a vinca plant. Follow these steps carefully. Use a knife or blade only if you are comfortable with it. else a pruner is the best option for taking a safe and healthy cutting
Do you like marigolds?, then Read: How to Grow and Care Marigolds Complete guide
Can you root Vinca in the water?
Yes, You can grow roots in Vinca cutting using plain drinking water. You have to take care of two important things for this purpose.
The Vinca cuttings should be healthy and at least 5 inches long.
Water should be clean and free from any bleach or chemicals
If you are sure and you have everything required then get ready to grow your own vinca plant for cuttings in just plain water.
How do you propagate Vinca in the water?
Take a transparent glass, bowl, or bottles. Glass is the best option for this purpose. It is affordable and easily available in your kitchen. Don't worry this method is nothing to do with specific containers. You can use anything you want.
Fill just 2-3inch of the glass with plain drinking water. You can also use tap water but it can reduce the rate of success.
Add 5 ml or just 4-5 drops of hydrogen peroxide in the glass. This is optional. You can use a few cloves as an alternative to hydrogen peroxide. It will work just fine.
Put 5-8 cutting in each glass and leave it in a bright spot. Place the glass near the window slit.
Change the water every 3-4 days. Don't leave the water or more than 6 days in the same glass. It can cause rotting to the stems.
Repeat this step for the next 3-4 weeks. In ideal climatic conditions, your vinca cuttings will be ready in 25-30 days.
Transplant the new plants in 4-inch small pots for 7-10 days. After that, you can move them to bigger pots or grow directly in garden soil.
How long does it take for cutting to root in water?- It can take 20-28 days for vinca cuttings to root in plain water.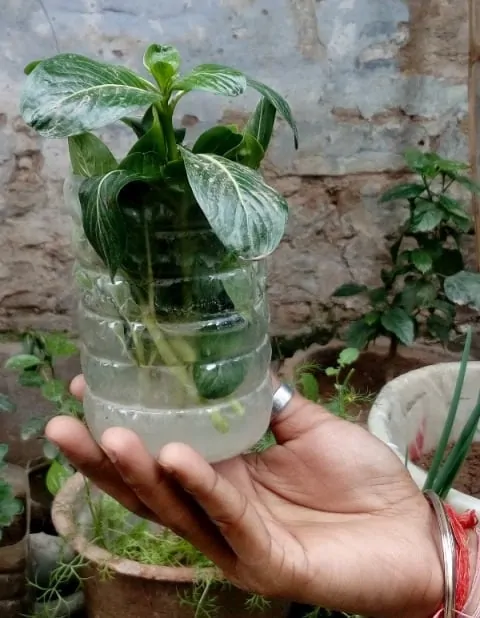 Can You Grow Vinca in Sand?
Yes, you can easily grow vinca cutting in River Sand. River sand provides good drainage and proper aeration for faster root growth.
It is an affordable and low-cost method of growing vinca cuttings. This method is easy but requires proper care. You just have to follow few easy steps for 100% succusses.
Take Coarse River or Construction sand
Clean the sand in water thoroughly. Repeat this step 2-3 times if necessary. Make sure there is no dirt or impurities left in the sand.
Take a pot or container at least 4-5 inches deep. Sterilization of containers is a healthy habit. Use any contact fungicide to protect cutting form fungal attack.
These three steps are very easy to follow. Doing all these will take a maximum of 15 minutes. After this, you are ready to grow vinca cutting in plain river sand.
How do you propagate periwinkle in the sand?
Sand is the most affordable medium to grow periwinkle or Vinca cuttings. I believe you have followed each of the previous steps carefully. Before proceeding make sure you understand everything correctly.
Fill the pot with clean river sand. Leave 1-inch empty space at the top. This will help in proper watering.
Make a few holes in the sand using a pen or a screwdriver. You can use anything comfortable for this purpose.
Try to make the holes at least 2 inches apart from others.  This will help in the proper removal of individual plants.
Dip each cutting in rooting hormone. Apply a light coat over the 1-inch bottom of the stem cuttings. Leave these cutting to dry for 5 minutes. This is an optional step but helps greatly for faster root growth.
Place 1 cutting in each hole. Just put it 2-3 inches deep. A minimum of 2-inch depth is required for healthy root growth.
Gently press the sand to make it firm and hold each cutting straight.
Water lightly to maintain the moisture. Sand can dry very quickly so water every day carefully. Avoid overwatering. Overwatering is the main reason for root rot disease in vinca plants.
Leave the pot in a semi-shade for 3 weeks. Regularly water and care for the cutting during these days.
The vinca cutting will be ready to transplant in 20-25 days. You can wait a few more days for 100% success.
The next step is the removal of cuttings. Take out each cutting carefully from the sand. Try not to harm the delicate root system. Wash the sand over the roots.
Transplant these new baby vinca plants in 4-inch pot. Don't grow them directly in the soil. They are still not acclimatized with sun and soil conditions.
After 7-10 days in the shade, these plants are ready to move out and grow independently. Now you can transplant them to ground or any bigger pots. Place the plants in direct sunlight for best results.
How long does it take for cutting to root in the sand?- It can take 15-18 days for the vinca cuttings to root in the sand.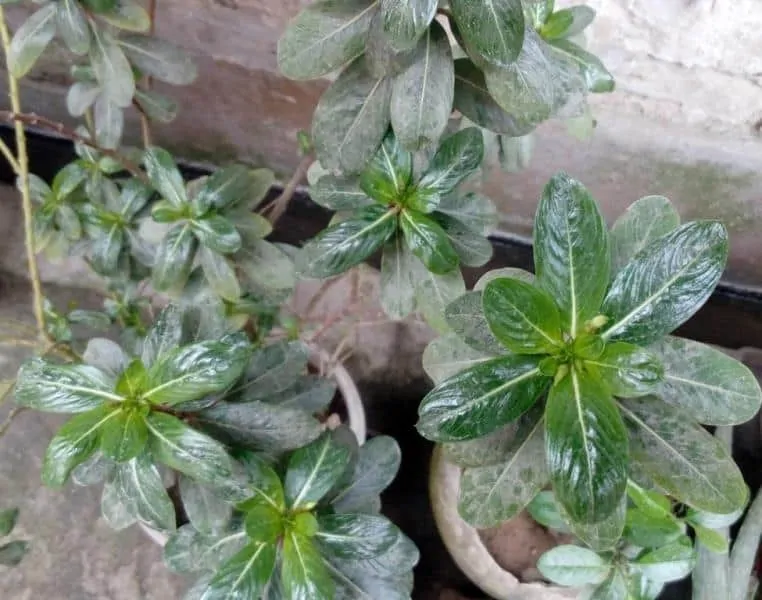 Can you grow Vinca in a soil mix?
Soil mix is an ideal medium for healthy plant growth. You can easily grow vinca cutting in a good quality soil mix.
You should be careful while using any soil mix.
The soil mix Should be clean and well drainage.
It should not hold water for more than 30-45 seconds.
The soil mix should not have any sign of fungal attack.
If you make sure all these requirements are fulfilled. Then you can use the soil mix to grow Vinca cuttings.
How do you propagate periwinkle in a soil mix?
Fill the pot evenly with soil mix. The pot should be at least 4 inches deep. It must have proper drainage holes.
You can add 1 teaspoon antifungal powder to this mix. Just sprinkle over the top. You can also mix it properly if you want.
Make holes 2 inches deep and 2inch apart using a pen. No need for deep holes. Just 50% or 2-inch depth is sufficient.
Put one cutting in each hole. You can use the rooting hormone if you want.
Press the soil mix gently and water the cuttings evenly.
Wait for 3 weeks to transplant these cutting in bigger pots.
You can grow these cuttings directly in garden beds or bigger pots. Vinca cutting grown in soil is more viable and acclimatized to environmental factors. These plants can easily adapt to any soil mix, better than sand or just water.
How long does it take for cutting to root in a soil mix?- Vinca cuttings can take 18-25 days to root in a soil mix. You just have to be patient and caring for these cuttings.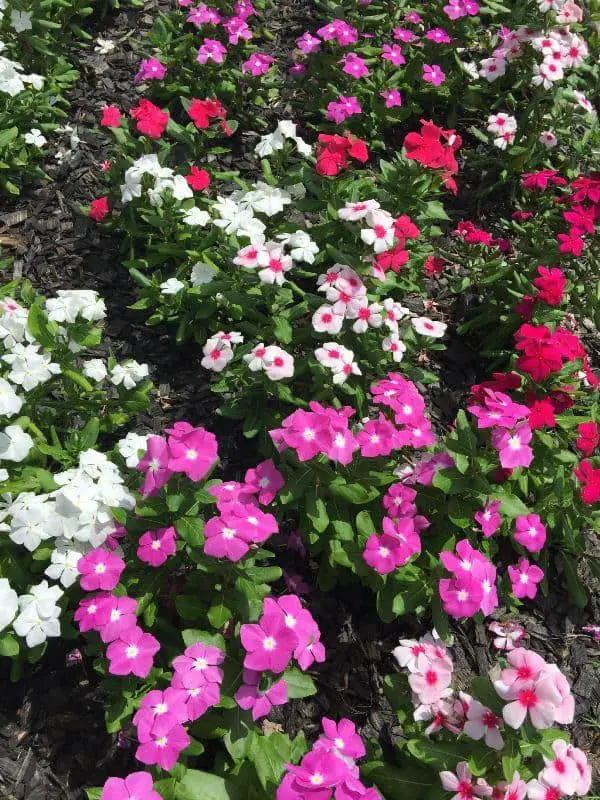 Special Tips for  Growing Vinca, Periwinkle or Sadabhar Cuttings
Start these procedures in early spring. You can grow the cutting indoors a week before the last frost. This will give some early blooming to your plants.
Vinca is a summer-flowering Perinneal plant. Therefore try to keep the temperature above 22 degrees Celsius and humidity around 50% for the best result.
Spray the cutting with an antifungal solution once in 15 days. This will protect the vinca cutting from any fungal diseases.
Vinca flowers love full sun and warm climate. You can place the plants in direct sunlight but I would suggest applying an overhead shed for bigger blooms. An overhead shed will protect the plant for high heat and heavy rain.
Final words
Just follow the step I have shared. These steps are tried and tested many times. I have grown 100s of vinca cuttings on my own. So I can assure you these steps work. You have to be careful and observant of the successful growth of vinca plants.
How do you like to grow vinca from cuttings? Share your views and thought in the comment section. I'll be back with something more interesting in gardening.
Till then Keep Reading, Keep Gardening. Live The Green!
Before leaving read this:10 Beneficial Application of Plants in Human Society