Summer flowers come in many different colors. You will find all the vibrant colors in summer yellow, pink and red. But today I am here with a list of 60 beautiful white summer flowers. Many of these white are flowers are common and easily available.
If you are searching for some gorgeous beauties for your home garden, you are in the right place. Today you are gonna see all the most beautiful white summer flowers that you can grow. If you want any suggestions regarding gardening or planting any of these plants please comment below in the comment box.
Buy Beautiful White Flowers Online
60 beautiful white summer flowers
From Amaryllis to the common yarrow flower, you are going to see all the white summer flowers here.
1 Amaryllis (Hippeastrum)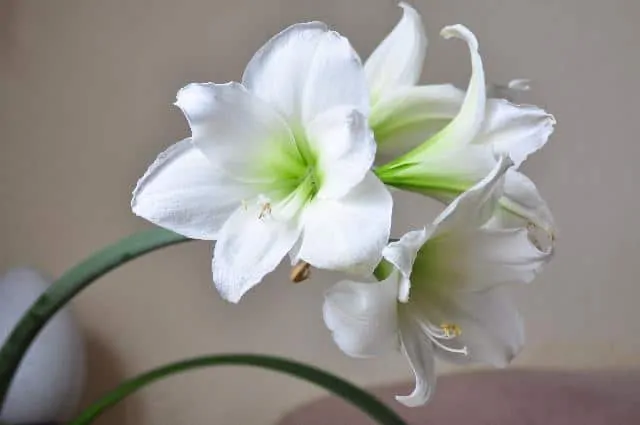 Amaryllis is a flower that is always confused with lily. It looks similar and even grows in the same condition. These are two different flowers. Amaryllis is a  bulbous flower with broad strap-shaped green flowers. There are many color varieties of amaryllis -red, purple, blue, pink, and white are very easily available. This is one of the most beautiful white flowers.
2 Carnation- (Dianthus caryophyllus)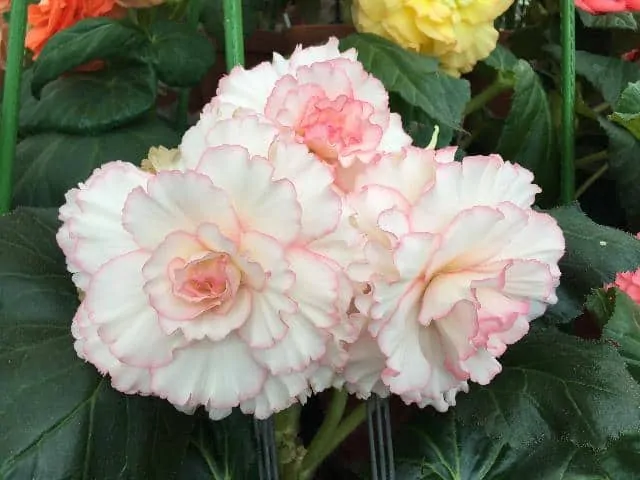 Carnation flowers are beautiful and sweetly scented. The leaves are long blue-green or green with a greyish touch. Beautiful flowers and leaves make it a more attractive plant. Pink, purple, red, yellow, blue-green, and white are color varieties of carnation. From wedding to funeral, people use different colors of the carnation flower for different occasions.
3 Daffodil-(Narcissus)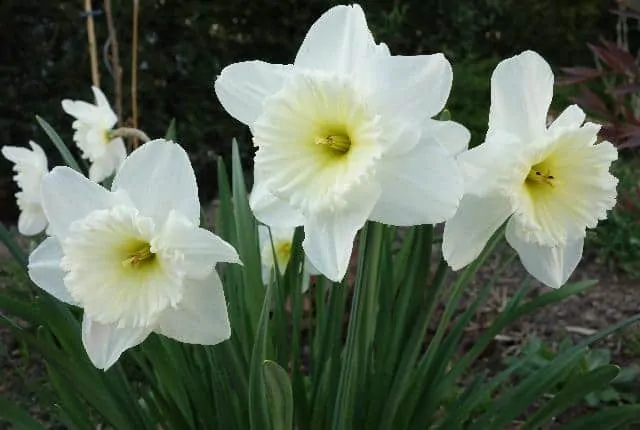 Daffodils are beautiful flowers with white, yellow, orange, and pink color varieties. These are basically flowers with six petals and contrast tepals and Cortana. The dry capsule that fruit consists, filled with black seeds. They regrow from a bulb and die after flowering.
4 Gardenia-(gardenia)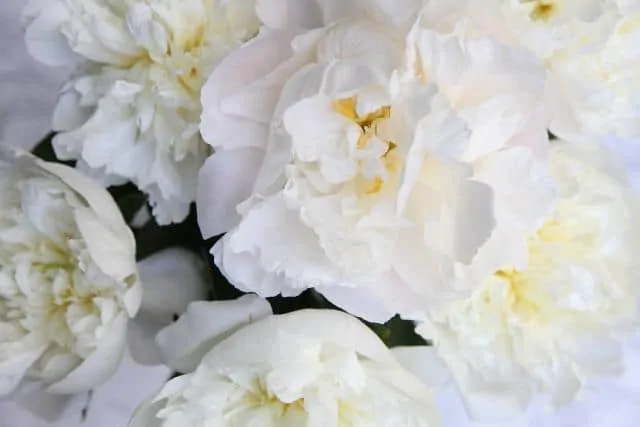 Gardenia is a flowering plant that belongs to the coffee family. The leaves are dark green glossy leather-like texture. Whorls of 3-4 leaves can be seen usually. Even the petals can be seen whorls with the yellow-brown center.
5 Hibiscus- (Zantedeschia)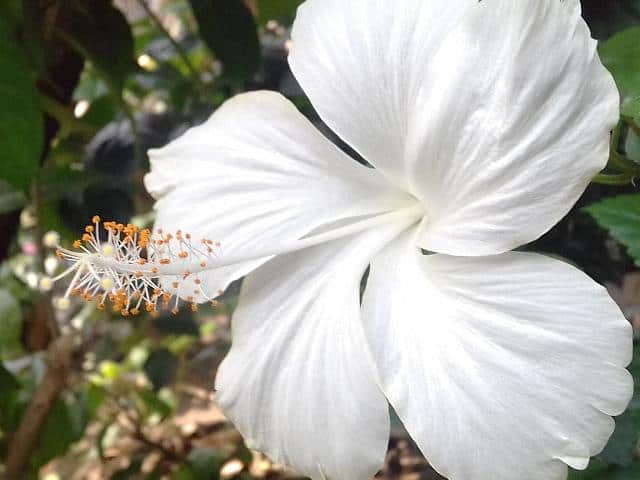 White hibiscus is one of the most beautiful varieties of flowers. Pink purple and red are some very common colors of hibiscus. But the white one is one of the most attractive ones. Hibiscus flowers are not only beautiful but also useful for us. It has many health benefits also. Worldwide use of Hibiscus in herbal tea and medicines are common for us. Also, Hibiscus flowers can be used as a face or hair mask to get beautiful skin and healthy hair.
Check out my previous post: How to grow Hibiscus by Air Layering? Easy Propagation
6 Iris -(Iris)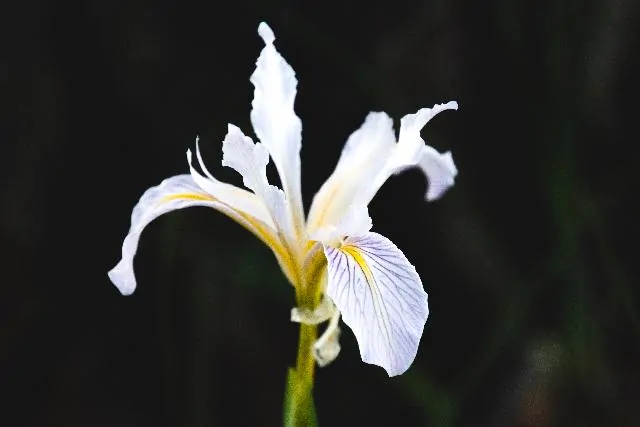 Irish is a  Greek word that means rainbow. The name Irish refers to a wide color variety. The plant usually has long erected flowering stem and long sword-shaped green leaves. Six-lobed flowers are narrow at the bottom and broad at the opening.
7 Lily of the valley -(Convallaria majalis)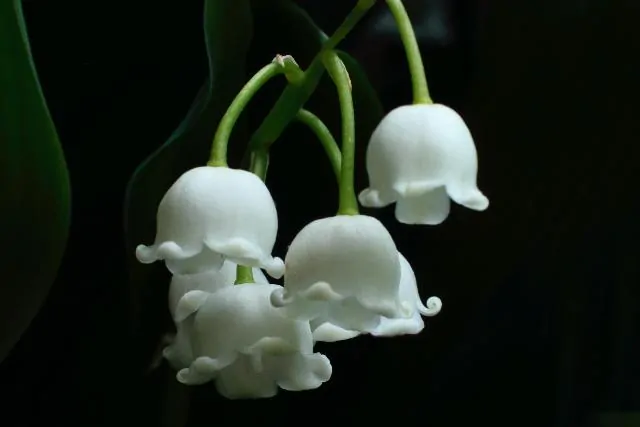 Lilly of the valley also know marry's tear, my lady's tear or may bell. It is a highly poisonous plant for humans and animals. The light scent and beautiful white color attract everyone. The flowering stem contains two broad leaves and at the stem apex, you can see the raceme of cute white flowers.
8 Lisianthus-(Eustoma)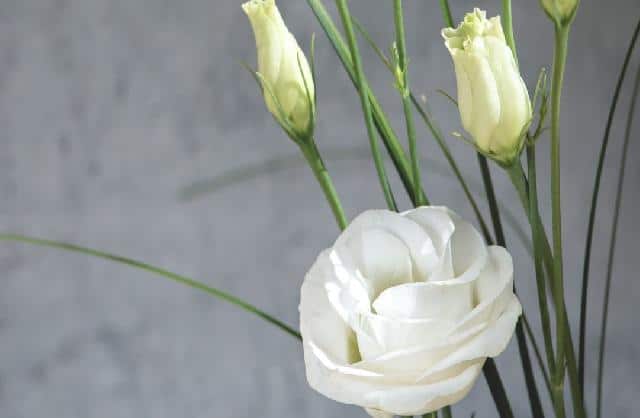 Lisianthus or Eustoma, you can also call it prairie gentian. The flowers have a hollow funnel-shape with many color varieties. Pink, blue, purple, red, and white are some common colors. Sometimes plants produce bicolor flowers also. That's why it looks very beautiful.
9 Magnolia-(Magnolia)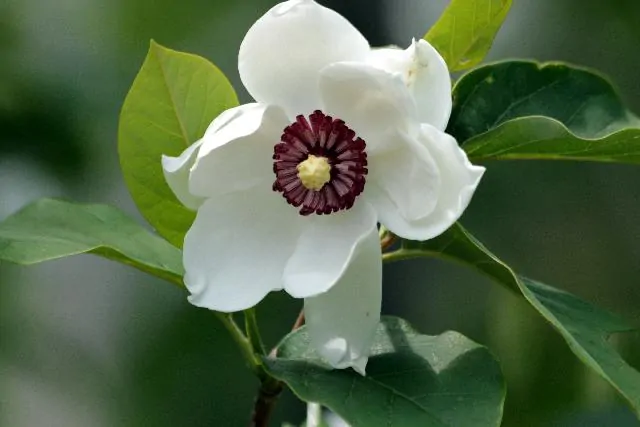 Magnolia is a beautiful fragrant flower species. Flowers are generally long star-shaped or bowl-like shapes. There are Pink purple green yellow and white color found. This plant also produces the fruit of the cone shape. The contrast color combination of these white summer flowers makes them more attractive.
10 Peony-(peony)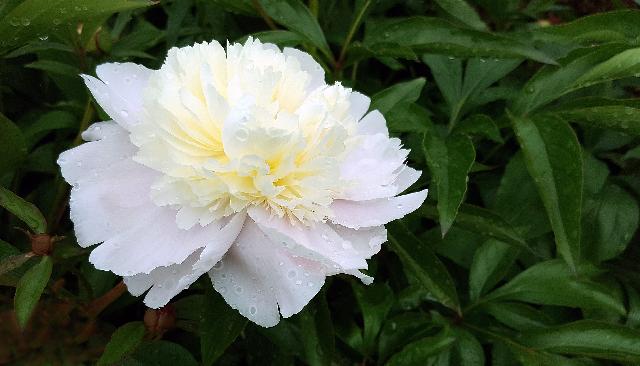 Peony or paeony is a  flower with a short blooming period. It blooms for only 7-10 days. The beautiful white, pink, purple, and red-colored layered petals make it one of the most beautiful flowers. Peony is grown as one of the most popular garden flowers. It is very easy to grow, you can add this to your garden too.
11 Periwinkle-(Vinca)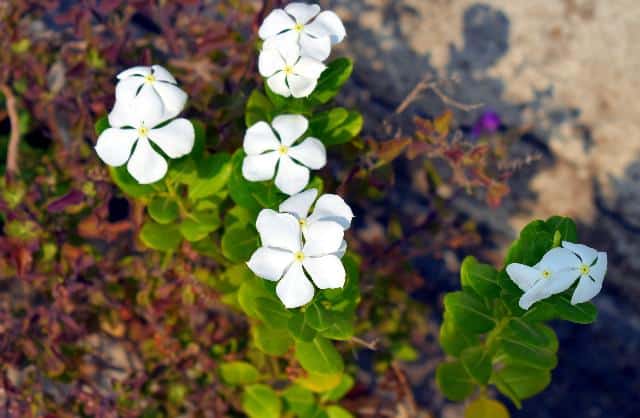 Periwinkle, we also know it as vinca and Catharanthus. The star-like cute periwinkle flowers usually have 5 petals. Pink, purple, and white color are common color varieties of periwinkle. It has many health benefits and is used in making medicines for cancer treatment.
Check out: How to Grow Vinca from Cuttings: Periwinkle, Sadabhar Plants
12 Ranunculus-(ranunculus)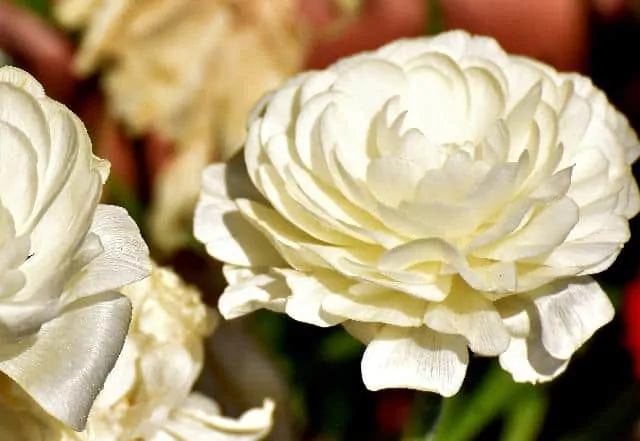 Ranunculus flowers have many common names like buttercup, water crowfoot, and spearworts. Buttercup's name is derived from its features. The surface of the petals is lustrous and reflects light. yellow buttercups are very common but the white is not let you move your eyes. It looks very beautiful.
13 Snapdragon- (Antirrhinum)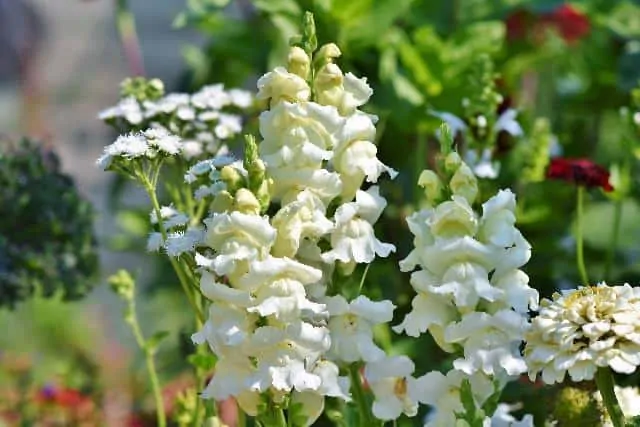 Snapdragon or Antirrhinum is mainly found in rocky areas. It is also known as the dragon flower due to its resemblance to the face of a dragon. It blooms in a bunch and covers the stem completely. There are huge color varieties of snapdragon flowers, purple, red, blue, white, yellow, and pink can be easily found.
14. Star of Bethlehem-(Ornithogalum)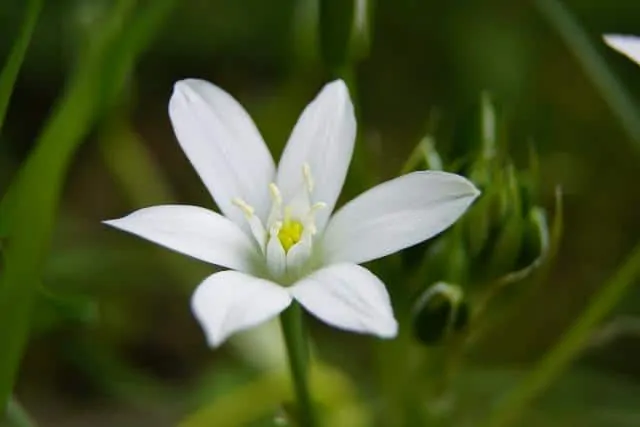 Star of Bethlehem- call it grass lily, eleven-o-clock lady, and nap at noon flower. Flower petals are generally white from the front and green stripe on the backside. This six petals flower widely grows as an ornamental garden plant.
15. Stephanotis-(Stephanotis floribunda)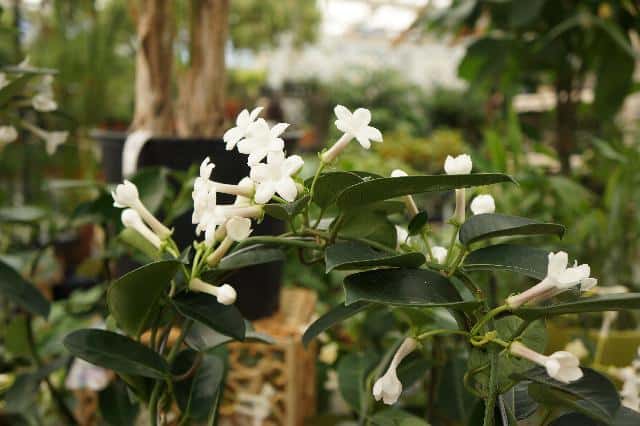 The flower is called Stephanotis which means a crown, must be due to its shape. Stephanotis is a fragrant flower and is grown for perfumes. It is also grown as an ornamental plant with dark shiny leaves.
16. Hyacinth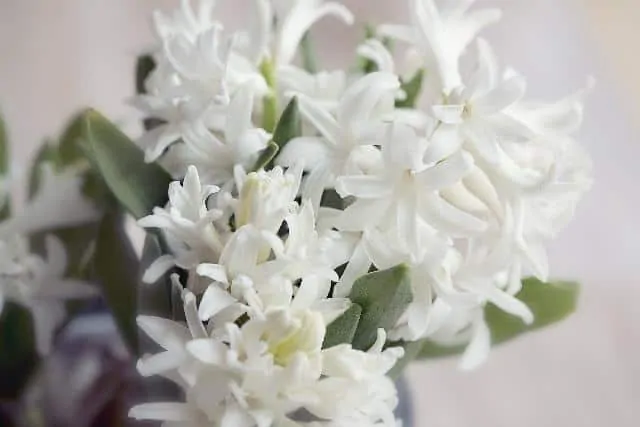 Hyacinth or Hyacinthus is a flowering plant that grows from bulbs. Each bulb produces leaves and spikes. There must be 4-5 leaves with 1-2 spikes of flowers. Lots of fragrant flowers grow on a single spike. The bunch of cute little closer densely cover the plant.
17. Clematis-(clematis)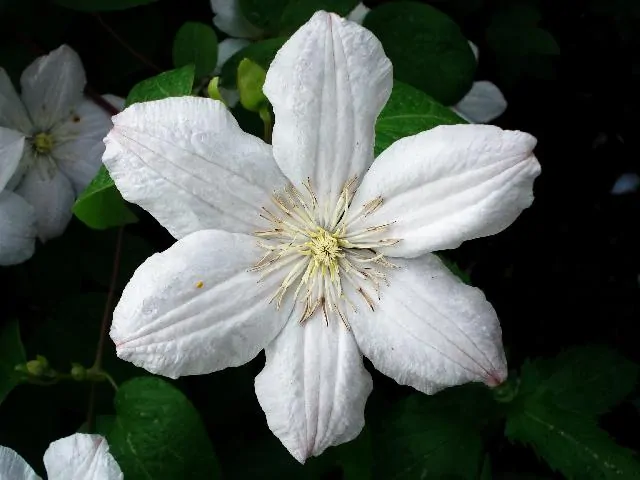 Clematis has many different varieties with different names. All are flowering plant and looks very attractive. These pretty white flowers need very little care and even frequent watering is not needed.
18. Dahlia-(Dahlia)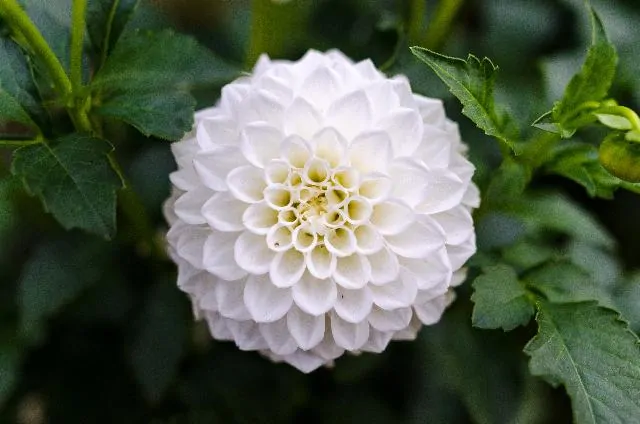 Dahlia is one of the beautiful flowering plants that people grow a garden plant. It has more than 40 beautiful species. The flower head of dahlia is a combination of disk floret and ray florets. disk florets of the flower are surrounded by ray florets. In actuality, each floret of dahlia is a flower itself. Dahlia is one of the most unique and beautifully created flowers in the world.
19. Daisy-(Asteraceae)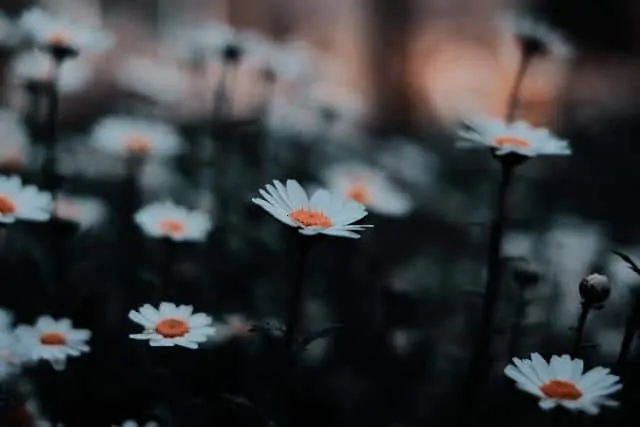 Asteraceae is commonly referred to as aster or daisy. It is a large family of beautiful flowering plants. Even the white species have several different varieties. The white flowers with orange or yellow disk floret are common. Pink, purple and blue disk florets with white long petals look awesome always.
20. Gladiolus-(gladiolus)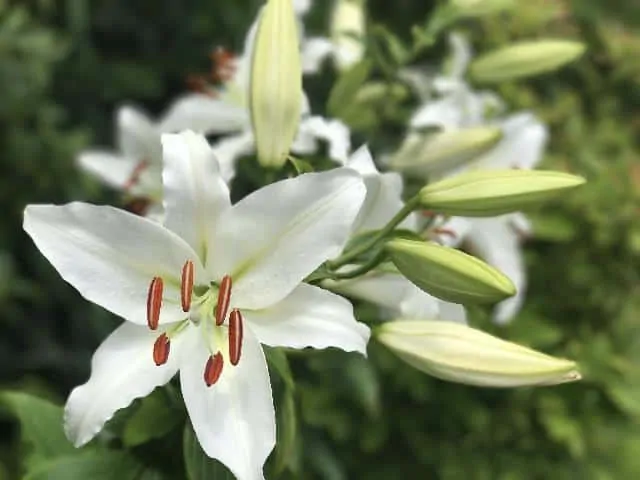 Gladiolus is a flowering plant from the iris family. The unbranched stem of the flower contains sword-shaped grooved leaves. Each flower contains 6-8 petals with a middle lining.
21. Hydrangea-(Hydrangea)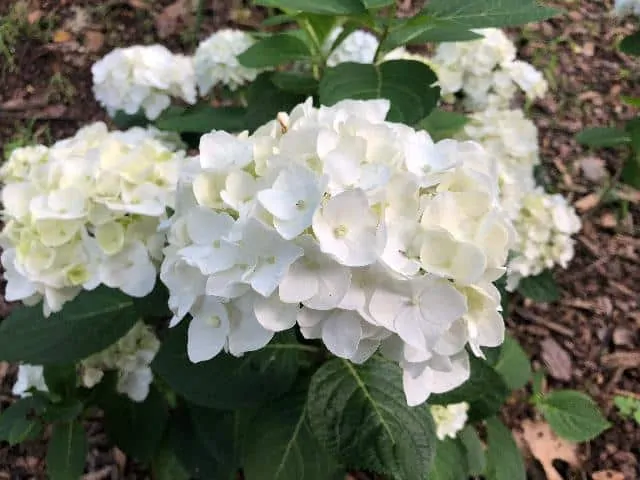 Hydrangea or call it  Hortensia flowers. These flowers are white in most species. Some species of hortensia have blue, light purple, dark purple, and pink colors. The plant contains two types of flowers small and big showy flowers. Tiny flowers can be seen only when you move flowers and leaves.
22. Iceberg Rose-(Rosa'Iceberg')
23. Jasmin- (Jasminum)
Jasmine is a white flower but it can be yellowish sometimes. The leaves are dark green and are arranged in pinnate formate. Jasmine bloom in clusters or 3-5 flowers. They are usually very fragrant and also cultivated for their fragrance.
24. Phlox-(Phlox paniculate)
25. Queen Anne's Lace–(Daucus carota)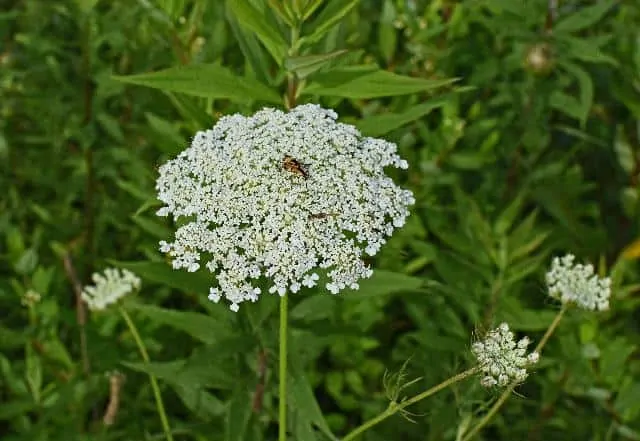 Daucus carota also is known as will carrot, bishop's lace, bird's nest, and Queen Anne's Lace. You can see the thin spike hairy leaves around the flowers. Leaf arrangements of Daucus are tripinnate. A tiny white flower grows in a cluster just like a twinkling star.
26. Rhododendron -(Rhododendron)
Rhododendron is a woody plant with lots of different flower varieties. The white color is loved by everyone. But Rhododendron flowers are generally bright colors like pink, purple, white- pink, and many more. The leaf arrangement is usually spiral.
27. Scabiosa–(Scabiosa)
Scabiosa flowers look very attractive and have some medicinal values too. It is used as a medicine for scabies and skin itching disease. The flower had a head with a saucer-shaped bract. Each bract contains many small florets. The light pink, white, blue, and purple is some color varieties of Scabiosa.
28. Sweet William–(Dianthus)
Sweet William is a species of dianthus. The flowers are in cup shapes with slightly curved at the center. There are usually 5 petals with spikey edges. Flowers are produced in dense clusters and have a clove-like fragrance.
29. Trumpet Flower-(Dhatura)
The trumpet flower is known as trumpet because of its shape. It looks like a trumpet a music instrument.  It has many weird names due to its shape and structure of the plant. Midnight horror, broken bones, oroxylum, broken bones, and the tree of Damocles are names of trumpet flowers.
30. Tuberose- (Polianthes tuberosa)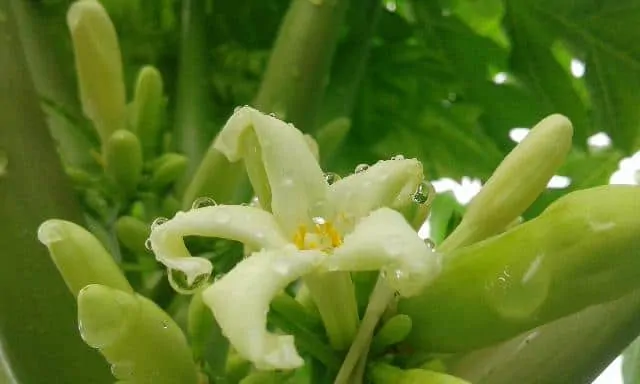 The tuberose grows from a tuberous root. People grow these as ornamental plants. Tuberosa is cultivated for perfumes. The tuberose is used in perfumery for centuries. It looks beautiful and the fragrance is Devine.
31. Yucca-(Yucca)
Yucca is one of the best white flowers to grow in the summer season. The flower grows is the spike surrounded by standing spike-like leaves. White, purple, and blue are a common color variety of yucca.
32. White Rose
Rose is everyone's favorite flower. But we usually have seen red and pink roses. Roses are widely used for gifting purposes. People believe that the different color and number of roses have different significance. The white rose is believed to be a symbol of peace and is used to show Love from friends.
33. White Lily
Lily or Liliums are large prominent flowers growing from bulbs. Looks very pretty especially the white one. Lily comes in many color varieties red, blue, yellow, purple, blue, pink, and white. The flowers of some species are fragrant with separate tepals. The white lily is definitely one of the most attractive flowers on this earth.
34. Calla Lily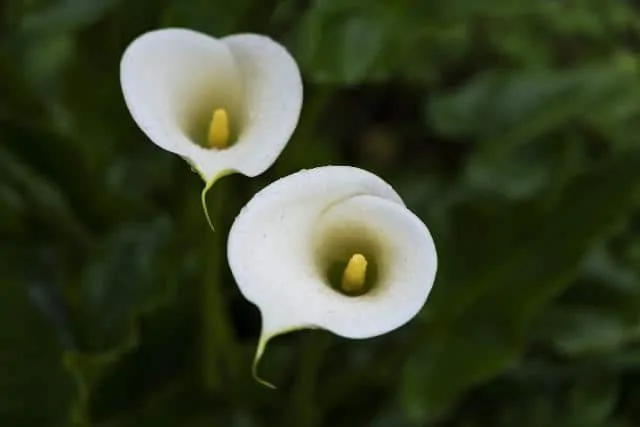 Calla lily is actually a species of a different plant family. It produces a sweet faint fragrance and the flower has spiral petals forming a cup-like shape. You can easily find Calla lily near ponds and lakes. These are really cute white summer flowers.
35. Tulips
Tulip is actually a member of the lily family and poses many similar traits. The flowers are generally large, cup-shaped, and bright colored. The plant have generally 5-6 leaves. Flowers come in mainly warm colors like red, pink, yellow, white, and orange.
36. Gerbera
Gerbera flowers are very beautiful and have pink, red, yellow, orange, and white color varieties. The center of the flower is generally black or sometimes yellow. The petals of the same can be of many different colors that means multicolor.
37. Japanese Anemone
Japanese anemone also is known as Chinese anemone, thimbleweed, or wildflower. This is actually a beautiful hybrid flower with white petals and yellow centers. It can be invasive and grow like weeds. you need to take extra care of your garden if you see Japanese anemone there.
38. Swan flower
39. Lotus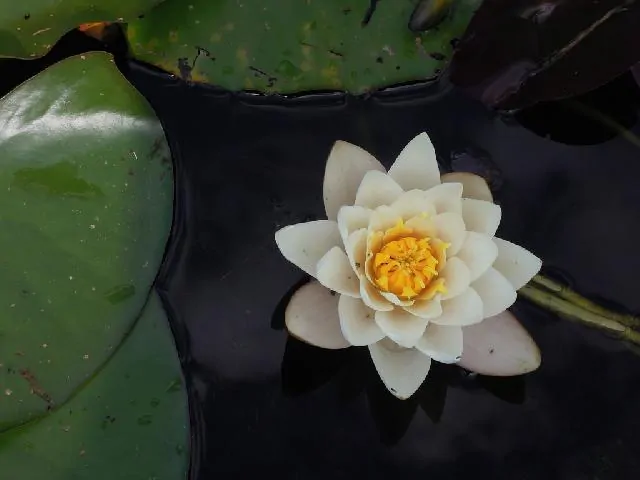 Lotus is one of the extant species of aquatic plants. People sometimes call it waterlily colloquially. This beautiful aquatic floral plant produces a beautiful flower with layered petals. Pink and white are the basic colors that are easily available. Egyptian bean, Bean of India, Indian lotus, and sacred lotus are other names of Lotus.
40. Cmpaluna -Cup flower
41. Plumeria- Champa
Plumeria is a flowering plant that sometimes grown into a tree in some areas. Champa or Plumeria is also known as Naagchampa in the Indian subcontinent. It is an Indian variety that contains the fragrance of both plumeria and sandalwood. Champs have different significance in different cultures in the world.
42. Petunia Snowball
Petunia snowball is a white variety of petunia flowers. This one is basically a trumpet-shaped flower with joint petals. These petals have five deep segmented lines.
43. Clitoria Ternateae -(Aparajita, Butterfly pea)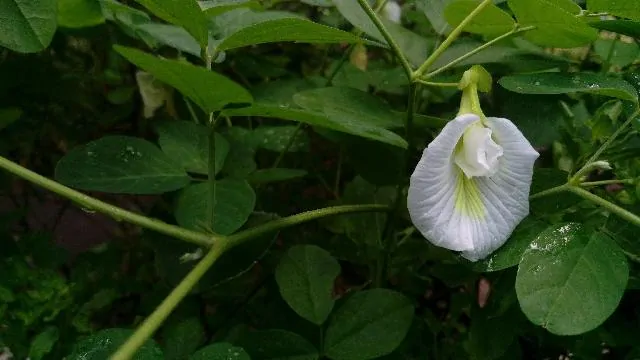 Clitoria Ternateae has many common names- Asian pigeonwings, Butterfly pea, Darwin pea, or Kordofan pea. It is generally dark blue in color and white looks super cute. In India, both blue and white butterfly pea flowers are holy flowers. It has many health benefits and is used as herbal tea also.
Read more about: How to Grow and Care Butterfly Pea: Clitoria Ternatea
44. Heliotropium Europaeum
Heliotropium is generally weeds and grows roadside in many areas. The tiny flowers with oval leaves are common of blue color with a tint of pink. Heliotropium Europaeum or Heliotropium indicium flowers are white in color. We can see the hairy soft surface of the leaves.
45. Wisteria
Wisteria commonly of purple color but blue pink and white are some easily available color variants. We grow it as an ornamental plant in many areas. The plant has pinnet arranged poisonous leaves and seeds grow in pods. These are generally woody climbing vines.
46. Pansy
Whenever we thought of pansy flowers, we thought of colors. You can see yellow, blue, black, red, orange, and white color varieties. Completely white color Pansy flowers look totally unique.
47. Daffodil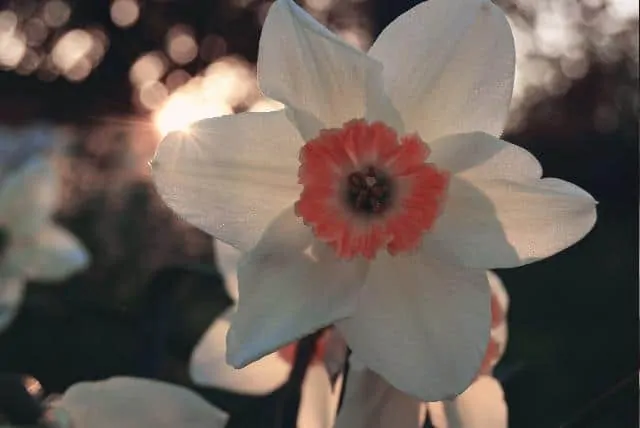 48. Daisy
49. Delphinium
The common name of Delphinium is larkspur. Almost all the members of this genus are toxic. Delphinium flower got its name because of the dolphin-shaped flowers. It has lobed and toothed leaves. The main stem contains all the flowers in a row very similar to lavender.
50. MoonFlower
The moonflower plant produces fragrant flowers and heart-shaped leaves. Other names of moonflowers are tropical white morning glory, moon vine, and Ipomoea alba. The flower blooms in the evening and remains open till morning light.
51. Alstroemeria
Is a flowering plant grow from a cluster of tubers. Leaves have smooth edges with variable shapes. Peruvian Lily and Lily of Incas are the common names of Alstroemeria.
52. Foxglove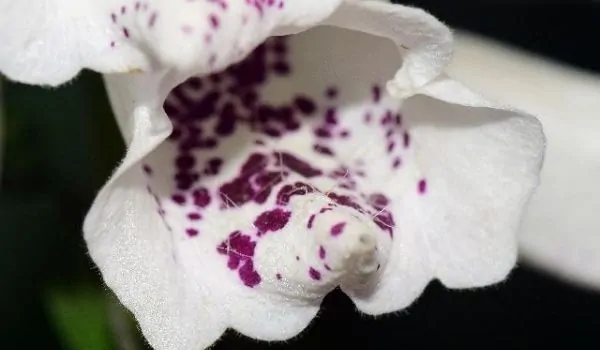 Foxglove got its name due to the fox prints of the flower. White summer flowers with purple, blue, or pink spots are common. The plant produces trumpet-shaped flowers with a soft hairy surface. It has a broad opening and a narrow end.
53. Columbine
Aquilegia and granny's Bonney are other names of a columbine plant. In some areas, it is an eagle's claw flower due to the shape of the flower. You can recognize the plant by seeing the spurred petals and the shape of the flowers.
54. Lilac
Lilac or common lilac or call it syringa Vulgaris. This flowering plant is a species of the olive family. Pinned leaves and a long bunch of small sweet-fragrant, white-purple flowers are easy to recognize. People widely grow it as an ornamental plant in the garden or parks.
55. Lupine
Lupin and Lupinus is the name of the same Lupine plant. It produces mainly blue or purple color flowers. We can eat the seed of the plant or lupine beans. People grow it for food as well as an ornamental plant.
56. Dog Wood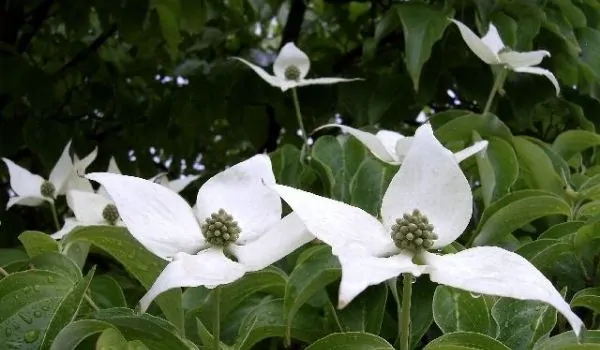 Dogwood is a species of woody plants. The flower has a small head surrounded with white long 4-6 petals. In some areas, people call it Dog tree or hound's tree.
57. Chrysanthemum
Chrysanthemums are basically old wild floral variety. Nowadays people grow it as a garden plant. It produces round or oval pollen with tiny spikes. The basic colors variety of flowers are red white and yellow.
58. Hellebore
Hellebore's common names are winter rose, and lenten rose. Mainly the members of this family are poisonous in nature. The flower of this plant blooms and petals fall off after some time. But the sepals remain persistent for some months.
59. Corn Marigold
Corn Marigold or corn daisy is a unique floral plant. It produces flowers very similar to daisy and marigold. Orange, yellow, and white color varieties are easily available. Corn daisy uses to grow like weeds with crops. It is not harmful even leaves and shoots of some plant varieties are edible.
60. Yarrow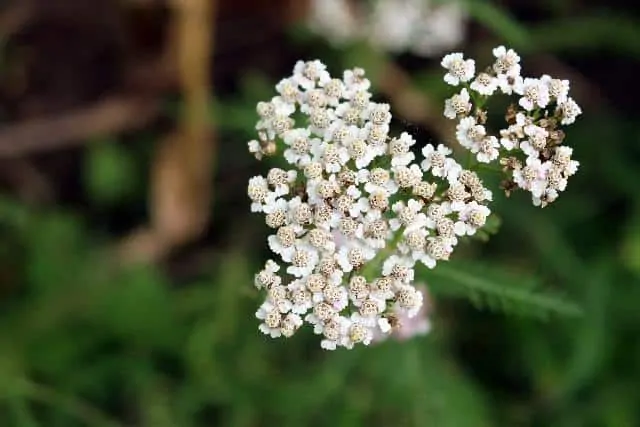 This is Achillea millefolium, you can also call it yarrow or Common Yarrow. The plant is helpful in stanching the blood from wounds and that's why people also call it herbal militaries. It has many common names like old man's pepper, devil's net, soldier's woundwort, nosebleed plant, milfoil, and many more.
I hope you enjoyed this post about white flowers mainly for summer. If yes, then do not forget to write your experience, suggestion in the comment box. Also, you can ask me to make a particular post on any of these flowers.