Portulaca or Moss Rose is a beautiful flowering plant. It is a summer – spring plant, best suited for a warm and moist environment. Moss rose (Portulaca) belongs to Portulacaceae family. There are almost 80-100 members in the Portulacaceae family. The Portulaca Grandiflora is one of the most beautiful and popular plants in the Portulacaceae family. Growing portulaca is very easy, even a beginner gardener can grow it successfully. It is popularly known for thick coverings and best for flower beds after winter.
How to grow portulaca? – Portulaca-it is very easy to grow a plant of the Portulacaceae family. You can grow Portulaca from its seeds as well as from its cuttings. The seeds of portulaca plant are very fine- dust-like, almost invisible from naked eyes. The cuttings of portulaca are very easy to cut and grow in the proper growing medium.
Is portulaca succulent?
Portulaca or moss rose is a succulent plant. Succulents are those plants that store moisture in their stem and leaves. Ultimately you need not water it often, these plants are basically drought resistant.
One important fact: You should always remember that succulents are not cactus. It simply means they need more water than any cactus. You should water your moss rose (portulaca) regularly and prevent complete dryness of the soil. If you are planning for a vacation then tell your neighbors to take care of your portulaca garden else you will find only remains of the dead plant when you return.
You should also read: How to Grow Marigold from Cuttings
Simple identification of a succulent plant: cylinder round green body, fleshy stem with thick narrow leaves are basic characteristics of any succulent plant, especially for moss rose.
Portulaca annual or perennial
Is Moss rose perennial? Yes, Portulaca or moss rose is a perennial flowering plant. You can grow it a whole year but it is best suited for the summer season. In simple words portulaca loves sunlight, you should provide 6-8 hours direct sunlight for best blooming.
Sometimes you can find automatic growth of moss rose in your garden bed. Actually, these are new seedlings grown from seeds fallen naturally in the last blooming season. The best part of growing portulaca is that you need not worry about excessive invasion as these plants are not too invasive one. It only required proper care like pruning and deadheading for best blooming.
Portulaca varieties
As we all know the Portulacaceae family has around 80-100 members. Portulaca or basically portulaca Grandiflora is native to Argentina, Brazil, Uruguay, and South America. It is the most popular flowering plant for the summer season. It is best to grow for thick garden coverings and beautiful hanging baskets.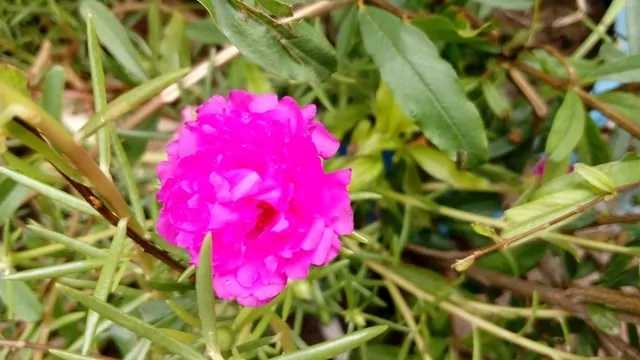 Some Species of Portulacaceae family (Portulaca or moss rose)
Portulaca amilis – Paraguayan purslane
 Portulaca andicola
 Portulaca bicolor – Pigweed
 Portulaca biloba – Cuban purslane
 Portulaca boliviensis
 Portulaca caulerpoides – Puerto Rican purslane
 Portulaca cryptopetala
 Portulaca elatior
 Portulaca elongata
 Portulaca eruca
 Portulaca fluvialis
 Portulaca fragilis
 Portulaca gilliesii
 Portulaca gracilis
 Portulaca grandiflora – Moss-rose purslane
 Portulaca halimoides L. – Silkcotton purslane
 Portulaca insularis
 Portulaca intraterranea
 Portulaca kuriensis
 Portulaca lanuginose
 Portulaca umbraticola Kunth – Wingpod purslane
 Portulaca villosa Cham. – Hairy purslane

 Portulaca longiusculotuberculata
 Portulaca lutea Soland – Yellow purslane
 Portulaca molokiniensis Hobdy – ʻIhi
 Portulaca mucronata
 Portulaca napiformis
 Portulaca oleracea L. – Common purslane, pigweed
 Portulaca papulosa
 Portulaca pedicellata
 Portulaca perennis
 Portulaca pilosa L. – Shaggy purslane
 Portulaca psammotropha
 Portulaca quadrifida L. – Chickenweed purslane
 Portulaca rotundifolia
 Portulaca rubricaulis – Redstem purslane
 Portulaca samhaensis
 Portulaca sclerocarpa – ʻIhi makole
 Portulaca sedifolia
 Portulaca smallii P.Wilson – Small's purslane
 Portulaca suffrutescens Engelm. – Shrubby purslane
 Portulaca teretifolia – Roundleaf purslane
Portulaca grandiflora
Moss Rose or portulaca Grandiflora is the most famous and beautiful flowering plant for our garden. It looks nearly like a small rose. The multi-petal varieties are best for ground cover. Portulaca grandiflora grows from early spring to late summer before the first frost occurs. It is an annual flowering plant that requires very less care.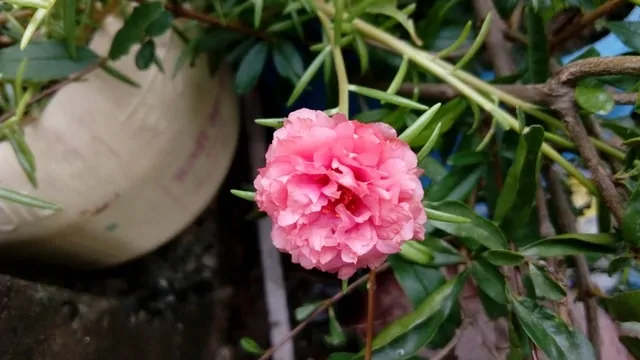 Moss rose colors: Multi-colored Moss rose portulaca flowers are easily available in white, red, pink, purple, yellow, orange, cream and many bicolor varieties. Among all, you can find single petal, double petal, and multi petal portulaca flower varieties.
Common Variety of Portulaca Grandiflora
Portulaca grandiflora common name: Bicolor moss rose, purslane, Portulaca grandiflora yellow, Portulaca grandiflora scarlet, Portulaca grandiflora Pink, Portulaca grandiflora  White, Portulaca grandiflora purple & Portulaca grandiflora Cream Variety.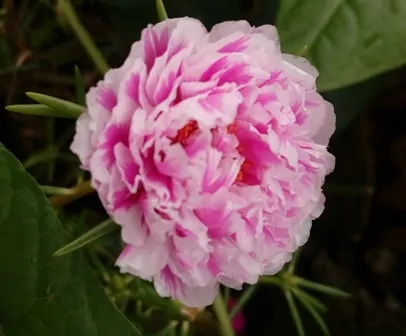 Portulaca is grown worldwide so there are many common regional names popular for Portulaca grandiflora. Some of these are:
Gul Dopheri- Moss rose in Urdu
time fuul
Nau bajiya- Moss rose in Hindi
Moss rose in Hindi- Lakshman-boti or Lakshman buti
9 o'clock flower
Alembong – Moss rose portulaca in the Philippines
hoa mười giờ – Moss rose in Vietnam
ten o'clock flower
Moss rose is called -sun flower – in Cambodia
eleven o'clock flower mostly in brazil and southern America
Botanical Name: – Portulaca grandiflora
Common Name
Origin
Height
Flower color
Best Growing Area
Bicolor moss rose, purslane
Brazil, Uruguay, Argentina
6-10 inch
Or 10-30 cm
Small pink flowers with white bicolor blooms.
Usually 2- 2.5 inches wide flowers.
Best for Container and Borders. Lawn beds also look good with these flowers.
Portulaca grandiflora yellow
Brazil, Uruguay, Argentina
6-10 inch
Or 10-30 cm
Bright yellow flowers. Single and double varieties available.
Best for Containers, pots and window boxes.
Portulaca grandiflora scarlet
Brazil, Uruguay, Argentina
6-10 inch
Or 10-30 cm.
Bright red velvet flowers.
Best for hanging baskets and Containers, pots and window boxes.
Portulaca grandiflora Pink
Brazil, Uruguay, Argentina. South America.
6-10 inch
Or 10-30 cm.
Bright pink color with plain or multi-pattern flowers.
These flowers are best for hanging baskets and Containers, pots and window boxes.
White, purple & Cream Variety
Brazil, Uruguay, Argentina. South America.
6-10 inch
Or 10-30 cm.
Many varieties of white, purple and cream portulaca are available.
Best for Hanging Baskets and Containers, pots and window boxes.
How to grow portulaca
The flowers of portulaca are bisexual, it means they contain both male and female part – Anther and stigma. When the pollen gets in contact with the stigma, fertilization occurs. The fertilization in portulaca results in the formation of capsules or pods which contain 3-4 white linings. These linings contain many fine seeds. The seeds of portulaca are almost invisible from our eyes.
We can either use the mature seeds of portulaca to grow new plants or we can take fresh cuttings for new plant growth.
Portulaca grandiflora propagation
Similar to any other member in the portulaca family, we can grow P. Grandiflora with seeds and cuttings. Grandiflora portulaca is famous for its multi-colored and multi petal flowers. I personally like Grandiflora due to its thick ground coverage. It is best for my garden. Looks great with other summer flowering plants, especially with gomphrena. Low maintenance is another advantage with portulaca flowers.
You can buy good quality seeds from the garden store or any nearby nursery or farm. Else you could check the latest prices of portulaca seeds on Amazon.
Portulaca grandiflora flowering season: Spring and summer is the best season for growing Portulaca Grandiflora. Portulaca needs at least 6-8 hours direct sunlight, so summer is the best time to grow portulaca.
Blooming in Portulaca is best seen between Aprils to September. Simply you can have flowers in your portulaca plants from early summer till the monsoon ends.
Portulaca growing Temperature: When night temperature is above 18-20 degree Celsius. The germination is best seen after the frost ends. You can also grow portulaca indoors- it is the best trick for early blooming.
Soil type for Portulaca: It is a succulent plant. It needs clean & well drainage soil. Portulaca roots can rot due to heavy waterlogging, so avoid soggy clay or hard soil for growing. The soil should be fertile and clean from any fungus.
Fertilizing portulaca plants: Regular fertilizing is not required in portulaca plants. You only need to mix good quality slow realizing organic fertilizer once in the soil mix before growing. Regular watering is required as it is a summer plant. Never let the soil to dry completely.
Best pots for Portulaca: Broad wide containers with drainage holes are best to grow portulaca. You only need to care the depth- it should be at least 6 inches for best blooming.
Growing Moss roses in containers are very easy and effective. You need not worry much about the plants. These plants are succulents in nature and need not water regularly. The portulaca can survive in direct sunlight even if you missed watering for a few days. These plants are very drought resistant. Therefore, it is always recommended to grow portulaca in hanging baskets or in containers.
You can also read: How do you get rid of the fungus in the garden soil?
You can also grow portulaca over the bulbs of winter flowers. As it does not require much water, so you need not worry about the rotting of bulbs underneath. Also, it is best to fill the landscape with several other flowering plants like gomphrena. Portulaca is not known to suffocate or suppress other plants so you can grow it easily in containers with other flowering plants of the summer season.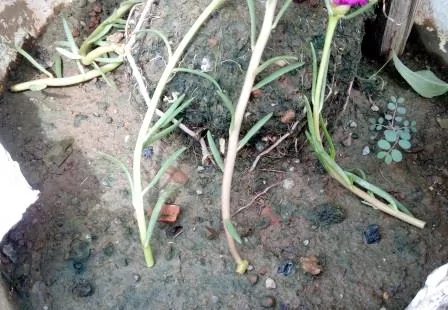 How to grow moss rose from seeds
Step1: Select the best variety and quality seeds. I recommend the multi petal one for the first try. For best colorful blooming mix seeds of different colors. It looks great on blooming season.
Step2: Portulaca does not require much care, just prepare a quality soil mix for the seeds.
Step3: mix garden soil, coco peat and vermicompost in equal proportion.
Step4: Use pots or containers of at least 4-6 inch height.
Step5: water the mixture thoroughly with a mix of plain tap water and a spoon full of fungicide.
Step6: Portulaca seeds are very fine, so sprinkle a little amount of it in each pot. Avoid over clustering of seeds.
Step7: Water slowly and regularly and avoid drying of the soil mix.
Step8: You will see tiny seedlings growing out within 5-7 days.
Step9: If you see heavy clustering then remove some plants and provide proper spacing between each plant.
How to grow moss rose from cuttings   
Growing moss rose from its cuttings is really very easy. It also an effective way of propagation for portulaca. Plants grown from cuttings are faster to bloom and identical to their known parent plants.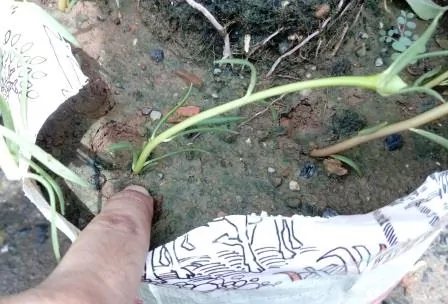 You should always be careful about growing portulaca from its cuttings. Follow the steps for best Selection:
Choose the best plants with desired colors and patterns.
Make cuttings of at least 4 inches long.
I recommend you all to grow these separately. It is important to remember which cutting is from which plant.
I personally use a rooting hormone to grow any cutting, but you can grow it directly in the soil mix.
Prepare soil mix for growing the cuttings. My personal potting mix is 30%-30%-30%-10% mixture respectively for garden soil, organic Compost, Coco Peat and perlite. You can avoid perlite or Coco peat, instead, you can use some sand with the mixture. Don't worry, Sand also works great with soil and compost.
Make a hole in the soil. At least 1-1.5 inch hole is recommended.
Try to burry at least two lower nodes of the stem within the soil. These nodes are the spot where new roots will develop.
Water the cutting daily or whenever required. Don't let the soil dry.
You will see new leaves will develop within 2-3 days. In fact, portulaca is one of the fastest-growing stem cutting plants.
Just care the cuttings for the next 2 weeks and you will find beautiful blooms in your garden. Happy gardening.
Portulaca problems
As we all know portulaca is very drought resistant. This means you need not to think about water all the times. Also, it requires very less care, so it is almost 100% maintenance free-flowering plant for the summer season.
Despite all is there anything that can harm portulaca? Which insect can destroy portulaca?
Yes, there are a few problems with portulaca plants. First, it cannot sustain complete dryness or extremely dry or cold season like any other cactus. Therefore, you need to take care of these plants at least in such extreme conditions.
Portulaca plants are also very delicate. It means the stems can break easily even with heavy rain or storm conditions. Also, the movement of pets and rodents can break the stems of portulaca. Some birds like sparrow can also cause damage to the portulaca plants, especially during the flowering season. Sparrow loves to chew the delicate buds of moss rose.
Another big problem in growing portulaca is with pest infestation. These plants are grown in summer and they usually bloom a lot during monsoon or rainy season. The moisture and color attract pest like aphids which can cause heavy damage even to your entire garden plants.
Sometimes overwatering in portulaca can cause shrinkage in flower size or sometimes decaying of buds can occur. You can even notice rotting of buds even before blooming starts.
Portulaca grandiflora care
We know that growing portulaca can cause some problems. We all face such condition many a time. So what to do? How can we protect our portulaca plants from these problems? How to care portulaca Grandiflora in pots or garden?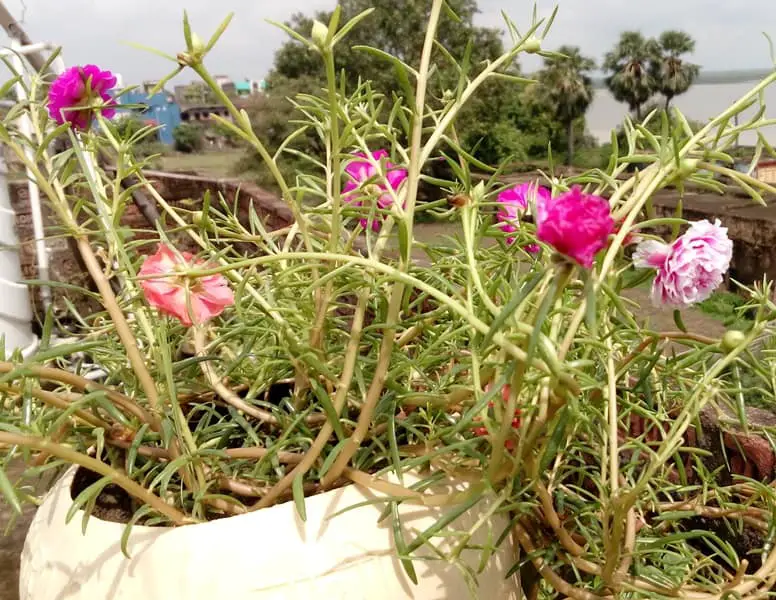 Despite all problems, there are few simple steps that can help in fighting with the common problems occurs with portulaca plants. You just have to follow these steps carefully: –
Step1: Maintain Proper drainage in the soil. Never let it to dry completely or to get soggy for a long time.
Step2: Deadhead the decaying flowers and branches regularly.
Step3: Prune the plants regularly to help in fresh growth or stems and flowers. Pruning helps in proper aeration that ultimately reduces fungal growth.
Step4: In every 3-5 days Spray homemade pesticide over the stems and leaves. You can use neem oil or clove and garlic mix with oil, soap, and water. It is best for aphid control over portulaca.
Step5: Fertilize your plants regularly with organic liquid fertilizer. Use the best quality fertilizer available for flowers. Though fertilizing is not very necessary for portulaca but I personally recommend it for best and bigger blooming.
Moss rose indoors
You can also grow moss rose indoors. Only you need some extra care with the developing stage of the plants. Ultimately you have to place the plant in direct sunlight for blooming. It is very important to learn that portulaca is a succulent and you can grow it indoors with almost no effort. But flowering in portulaca requires heat and light at most, at least for 6 hours a day.
How to grow moss rose indoors?
Step1: Prepare the soil just as for any other plants growing outdoor.
Step2: One thing to take care is the fungal attack. To control this just mix a full table-spoon of any contact fungicide with the soil. This will ensure no fungal growth occurs. The fungus is deadly for any succulent.
Step3: Place the containers in a well ventilated and dry area. If possible provide at least a few hours of direct sunlight. Otherwise, use high-intensity lights for 4-8 hours every day.
Step4: Watering is crucial for indoor plants. These plants are highly prone to fungal attack. So never add too much water to the containers. If possible use a drip irrigation system to control the flow of water whenever required.
Step5: Keep the soil a little bit drier for better growth. Pruning and deadheading are very necessary with portulaca or moss rose growing indoors.
Pruning portulaca
Pruning is a technique of controlling the overgrowth of leaves and branches in any plant. Actually, it is a process of cutting and removing extra branches and leaves to provide proper space for airflow and healthier growth.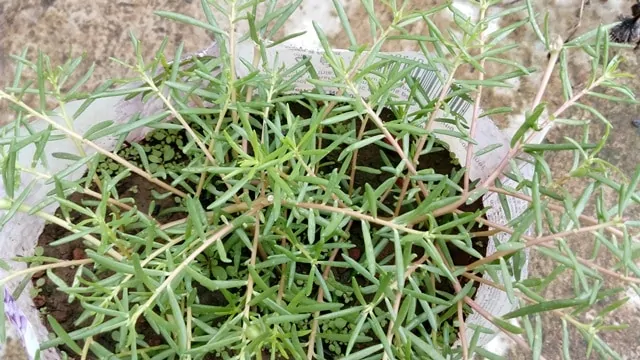 Portulaca or moss rose is a fast-growing succulent plant. Especially in monsoon, it can grow up to 15 branches with about 15-20 inches in length within a week or even lesser time. That is why it is necessary to cut and remove the extra branches for better healthier growth full of fresh blooms.
Pruning portulaca is very easy. It does not require any complex tool other than your own hands. You can use a sharp kitchen knife if you want, I personally don't need that. The stems are very soft so just pick it up with your hands, a gentle twist is enough to break the stems completely, so you need not apply much effort for this job.
How to Prune Portulaca?
You only need to be careful with the branches you choose to prune. Follow my recommendation for better pruning effect in portulaca.
Step1: Prune your portulaca only once or twice a month. Just pick the leggy i.e., the longer stems.
Step2: Break the stems only 4-6 inches from the top. Never prune till the end of the main plant body. Leave at least 4-inch long stem above the ground to develop new branches.
Step3: Select the branches where there are more than 4 stems clustering together. Try to keep at most 4 stems together for better blooming. Little spacing between the branches with highly increase the blooming. You will definitely notice it within a day or two.
Portulaca deadheading
Deadheading is another great technique to keep your plants healthy and bushy. Actually, it is a method where only the dead and decaying flowers and stems or just leaves of plants are cut off to keep the plant clean and healthy. These decaying dead stems and leaves are the playground for fungus.
To control fungal growth it is always advised to deadhead your flowering plants. Deadheading also prevents the plants to develop dead patches or zones. Otherwise, sometimes you will notice a section of you flowering plant gets dry suddenly.
Do we really need to deadhead portulaca? Yes, of course, we should deadhead portulaca regularly. It is a flowering plant and older flowers get weathered regularly. So if you let them dry and develop seeds then the plant will stop flowering soon. The ultimate goal of any plant is to produce seeds. If it is fulfilled then the job is done and the plant will die soon.
How to deadhead portulaca effectively?
Just follow these steps to deadhead portulaca plants. I personally follow these for a long time, and I bet it works- it always works for me.
Step1: Look for any dead flower, stems, leaves or buds.
Step2: pinch it off as soon as possible. You don't need anything other than your two fingers. Just pinch it slowly.
Step3: Look out for any dead patch in the cluster of braches. Sometimes branches break and the plant dies on their own. Your pet cat or dog can be responsible for this.
Ste4: Don't worry remove the broken branches and fertilize the area carefully. You can again grow these broken branches into new plants.
Step5: Whenever some plants stop blooming, just cut the upper portion of the branches with your hand or use a pair of scissors. Removing the heads with increase new branches to grow and within a week your garden will again fill with beautiful moss roses.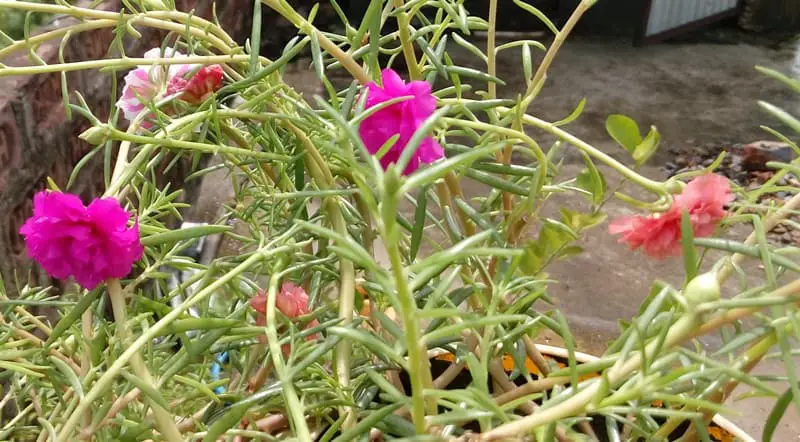 I have tried to answer all the question relating how to grow and care moss rose portulaca yourself. If I missed something then please let me know. Also, I would like to see your plants so please share your experience with me in the comment section. If you are having any problem with growing portulaca then please let me know, I will try to solve your problem personally.
Good day! Enjoy Gardening.