Are you planning to save some extra money for this Christmas celebration? The best way is to grow different Christmas tree varieties in pots. Yes, you can save a huge amount, and believe me, it feels great.
Generally, Christmas trees grow big and huge in size and are best to grow in the garden. But, you can grow small Christmas trees in pots for some years. keep in mind you have to do this at least 4-5 months before Christmas. So that you can get a perfect-sized living Christmas tree at your home.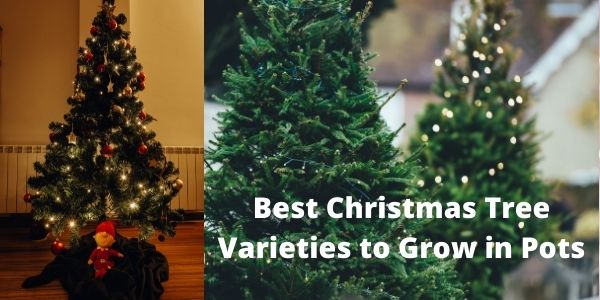 Check out this post: Why is my Butterfly Pea plant not flowering?-Clitoria Ternatea
Here are some well-known varieties of Christmas trees that you can grow in pots.
Christmas Tree Varieties to Grow in Pots
We generally use Fir, cypress, pine, spruce, and cedar as a Christmas tree. Almost all of these varieties are big huge trees. These are perfect for garden decore but not all of us have that much space.
The alternative is to grow them in pots.  But then the question is how can we grow big trees in pots? The easiest answer to this is to get a small size baby Christmas tree to your home.
These trees need very less or no maintenance. Just take care of the soil, there should not be too much water neither your solid should be over dry. Almost all of these tree varieties love low moisture soil.
Here are some of the Christmas tree varieties to grow in pots. You can go for trees of your choice and do some trial with them at your place.
Buy the best Christmas tree stands on Amazon.
Canaan fir
Cannan fir is a new variety of Christmas trees. This one of the best types of Christmas trees that you can grow in pots. The Canaan tree is believed to be a hybrid of Fraser and balsam fir.
There are many similarities in Canaan fir as that of balsam and Fraser fir trees. It has amazing needle retention as that of Fraser fir. Cannan fir is an evergreen tree with flat needle-like leaves.
It is actually a medium-growing tree, not too huge. Thus, it can be easily grown in pots. Choose the pot wisely and place it where it can stay stable. Decorate your Canaan as you want and enjoy your Christmas.
Virginia Pine
Virginia pine or pinus virginiana is a commonly known variety of Christmas trees. It is widely grown in Christmas gardens for commercial uses.
If you are looking for a rotund tree that can be easily maintained, this is for you. Virginia pine may look like a bad option for pot Christmas trees at first view. But you can easily grow them in pots.
This variety needs very less maintenance. You can choose to let your tree grow in small pots following some techniques. Another option is to keep transferring your pine from smaller to bigger pots as they grow bigger.
Read more: 60 Beautiful White Flowers to grow this Summer

Leyland cypress
Leyland cypress is the best option for you if you have any kind of allergies to the fragrances. This particular variety of cypress doesn't give off any fragrance. It has that perfect Christmas tree-like structure to give you a real feel.
The leaves of the plant are nice feather-like. Greenish gray leaves make it a bit different from other green Christmas trees. Leyland cypress is one of the fast-growing Christmas trees. So, you do not have to wait for a long to see a nice grown Christmas tree at your place.
White Spruce
Do you always buy fake Christmas trees with fake snowflakes? What if you get a real snowy feel in a real living Christmas tree? Exciting isn't it?
White spruce is a perfect Christmas tree with a white surface. It gives the snowy winter feel and looks more traditional. The white spruce found mainly in North America.
This tree has a strong branch so that you can hand even some heavy decore item on it. It is one of the best Christmas trees and also easy to grow. Just keep in mind to plant them in a bigger pot.
Scotch Pine
Scotch pine- National tree of Scotland. It is dark green in color and has sturdy branches. Scotch pines are the perfect option for a Christmas tree as you can decorate them as you want.
The branches of the tree make it easy for you to hang lights and other decor items. You can definitely grow a scotch pine in a pot for some years.
I always prefer planting a baby scotch pine instead of buying a huge one. Smaller plants are easy to move and you can place them wherever you want. Also, it feels great to see your baby Christmas tree growing every year.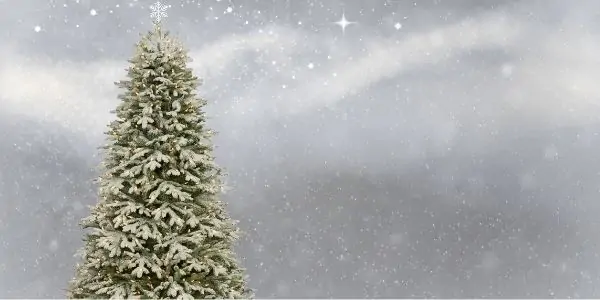 Check out the latest Christmas lights on Amazon.
Red Cedar
Red cedar trees are often referred to as eastern red cedar. These trees are basically cone-shaped or pyramid-shaped. You can easily found them in eastern North American regions. Red cedar trees have fragrant dark green spikes. These needles have a strong fragrance that you can smell from a distance also.
I prefer planting red cedar when they are small as a plant. You need a small pot of a small plant but close pots according to the size of your tree. A very small container will not hold the tree properly whereas a very big will be tough for you to manage.
You can buy trees from a nursery or just keep searching for a big tree nearby. You can bring a baby red cedar home direct from a garden. Use soil with light moisture. Too much water can ruin the roots and your tree will die.
Plant red cedar in a pot for a few years and then transfer it into the soil when it grows big. keep reporting and transferring the tree into bigger pots as its size increases.
More varieties of Christmas trees to Choose this Year
Deodar Cedar
White cypress
Blue cypress
Arizona cypress
Norway cypress
White pine
Balsam fir
Fraser fir
Grand fir
Concolor fir
Noble fir
Douglas fir
Blue spruce
Norway spruce
There are about 20 well-known Christmas tree varieties. Almost all are big trees and cannot be grown in pots for a longer period of time. Although you can get a small baby plant of your choice and keep it for some years until it is a full-grown tree.